Thank you very much for your attendance to the First Asian Conference on Meteorology! The success is due to your active participation and stimulating scientific discussion during the Conference.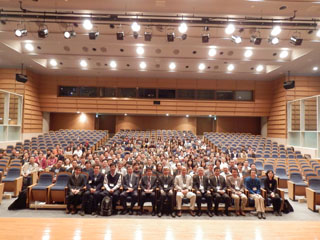 The extended deadline (April 30, 2016) of submission to
the Special Issue of SOLA
, the online journal of MSJ, has passed. The publication of the Special Issue has started since the release of the first article on May 10, 2016! Several more articles will be on line at
SOLA publication web site
as soon as the peer review process is over.
Last update: May 23, 2016
The Meteorological Society of Japan (MSJ), Chinese Meteorological Society (CMS), and Korean Meteorological Society (KMS) have been organizing joint conference on meteorology since 2005. The purpose of the joint conference is to enhance the development of atmospheric science, promote international academic exchange, organize regional activities in the field of meteorology and create an academic exchange platform for meteorological societies of China, Korea and Japan. It is also intended to enhance the friendship among the meteorologists of the three countries.
After the sixth conference held in China in 2013, the three societies have been discussing the future of this conference. Recognizing that the conferences have provided good opportunities to young scientists among the three countries and that the benefit will be expanded in the future, the representatives of the three societies agreed to organize joint conference among the three countries for every two years in each country by turns with a title of the Asian Conference on Meteorology. The first of this conference will be held in Kyoto, Japan in October 2015.
The coming conference focuses the scientific subjects to be discussed to the followings: 1. Modeling and analysis of climate change and monsoons, 2. Regional air pollution under changing climate, and 3. Climatic role of the middle atmosphere.
The organizing committee cordially invites you to participate in the First Asian Conference on Meteorology to be held in Kyoto, Japan.

The abstract submission was closed on August 15.
The online registration was closed on September 15.
There has been a slight update in Agenda.
Session program with abstracts are now available.
Instructions for oral/poster presentations are available from here.
On site registration is available during the Conference period.
We will offer a partial support for day-care cost to those accompanying children.
We suggest you to make hotel reservation as soon as possible,
as the Conference will be held in the midst of Autumn high season in Kyoto.