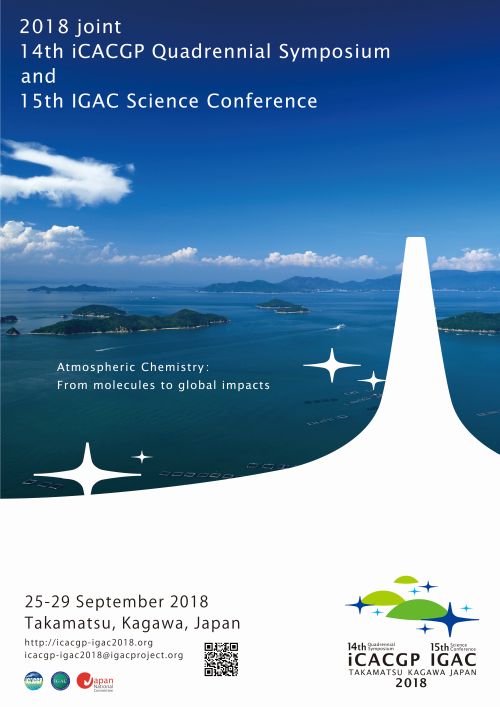 Abstract submissions are now open for the 2018 joint 14th Quadrennial iCACGP (international Commission on Atmospheric Chemistry and Global Pollution) Symposium and 15th IGAC (International Global Atmospheric Chemistry) Science Conference (iCACGP-IGAC 2018) will be held in September 2018 in Takamatsu, Kagawa. The conference will be held in Japan for the first time in 24 years. The due date for the abstract submission is 1 April extended to 11 April.
The meteorological society of Japan is a cooperating societies of this symposium/conference.
Researchers from the areas not only atmospheric chemistry but also researches on the boundary between the atmosphere, hydrosphere and terrestrial areas are welcomed.
The symposium/conference theme is:
Atmospheric Chemistry: From molecules to global impacts
and researchers from around the world will discuss the topics from basic research to weather/climate, impact on ecosystem, relationship with the humanosphere in the following five sessions.
Atmospheric Chemistry and Fundamentals
Atmospheric Chemistry and Weather/Climate
Atmospheric Chemistry and Ecosystems
Atmospheric Chemistry and People
Challenging the Future
Details: http://icacgp-igac2018.org/conference-program/sessions/
In addition, in order to train young researchers who will be responsible for the next generation,
Early Career Short Course
Early Career Conference Program
Opportunities for mutual exchange with young researchers and senior researchers are planned.
Details: http://icacgp-igac2018.org/early-career-scientists/ec-short-course/
For details, please see the website: http://icacgp-igac2018.org
The announcement from the Japan Society of Atmospheric Chemistry (in Japanese): https://jpsac.org/news/post_1952/