Graphical Abstract
Bessho, K., K. Date, M. Hayashi, A. Ikeda, T. Imai, H. Inoue, Y. Kumagai, T. Miyakawa, H. Murata, T. Ohno, A. Okuyama, R. Oyama, Y. Sasaki, Y. Shimazu, K. Shimoji, Y. Sumida, M. Suzuki, H. Taniguchi, H. Tsuchiyama, D. Uesawa, H. Yokota, and R. Yoshida, 2016: An introduction to Himawari-8/9 - Japan's new-generation geostationary meteorological satellites. J. Meteor. Soc. Japan, 94, 151-183.
https://doi.org/10.2151/jmsj.2016-009   Graphical Abstract with highlights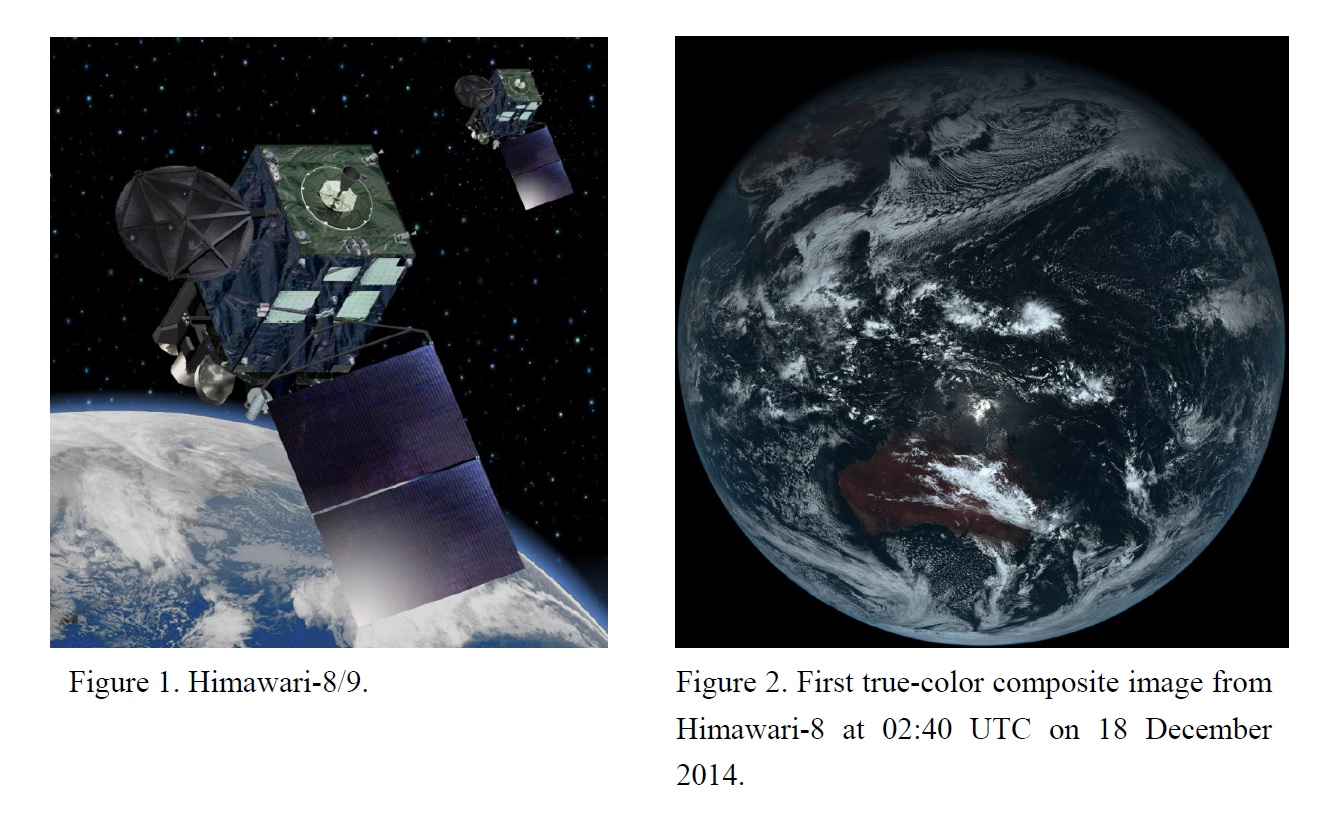 Highlights:
A Japanese new-generation geostationary meteorological satellite of Himawari-8 was successfully launched on 7 October 2014. The Japan Meteorological Agency has commenced the unit's operation from 7 July 2015. Himawari-9 will also be launched in 2016 for in-orbit standby service, and will eventually replace Himawari-8 (Fig. 1).
Figure 2 shows first true-color composite image from Himawari-8. It carries state-of-the-art optical sensor of Advanced Himawari Imager (AHI) with significantly higher radiometric, spectral, spatial and temporal resolution than those previously available in geostationary orbit.
This paper provides an overview of the Himawari-8/9 satellites. In the first half of the paper, the basic functions of the satellites, their ground segment, the specifications of AHI and the imagery and data distribution/dissemination scheme are explained. The physical retrieval products created from satellite observation data are introduced, and the development plan for new products and application are discussed in detail later in this paper.